Are you bored of busy and noisy life.Want peace ? Then visit Paradise of Peace ,
"Red Fort"
located in
Delhi, India
one of the famous tourist destinations .
It is also known as Delhi Fort or Lal Qila in Hindi. As it was built of red sand stone the name Red Fort was thus given. One can proudly say that largest monument in old Delhi is Red Fort.
Though originally built by Rajput king Raja Anangpal later fantastically expanded y mughal emperors Shah Jahan and Aurangazeb.An interesting point to note about this fort is that it is along the side of Yamuna river, 2 kms in length with height about 18 metres and served as a palace in ancient times for the Mughals.
The construction began in 1638 and finished in 1648.The architecture , art and ornamental work which reflects Indian, European and Persian styles is superb.
The attractions of the fort are :-
It has two gates of importance - Lahore gate which serves as the main entrance to the fort and the Delhi Gate.
Lahore gate is also known as Chatta Chowk which leads to shopping stalls called "Meena Bazaar" .
Drum house or Naubat khana beyond the Lahore gate, heart of fort is the place where musicians used to play instruments on occasions. It contained Elephant Gate where visitors got down from their elephants.
Hall of Public Audience or Diwan-i-Aam served as the courtyard richly ornamented where the king addresses the audience.
Hall of Private Audience or Diwan-i-Khas is site where private meetings were held by Emperor. The hall made of marble with attractive Peacock throne studded with gems and rubies but carried away by Nadir shah. One can believe by the statement given by Amir Khusro that "if there was a paradise on Earth then it is here" which reminds the glory of Mughals.
Palace of Colors or Rang mahal is another feature of this fort with a spectacular fountain of lotus shape hall made of marble, with decorative ceiling and paintings with central pool constructed for the royal women.
Mumtaz Mahal is now a museum where thousands of visitors view the gallery.
Life Bestowing Garden or Hayat Bakshah Bagh which lies north of fort is a formal large garden.
Pearl Mosque or Moti Masjid is a three domed small structure built of marble used by Aurangzeb.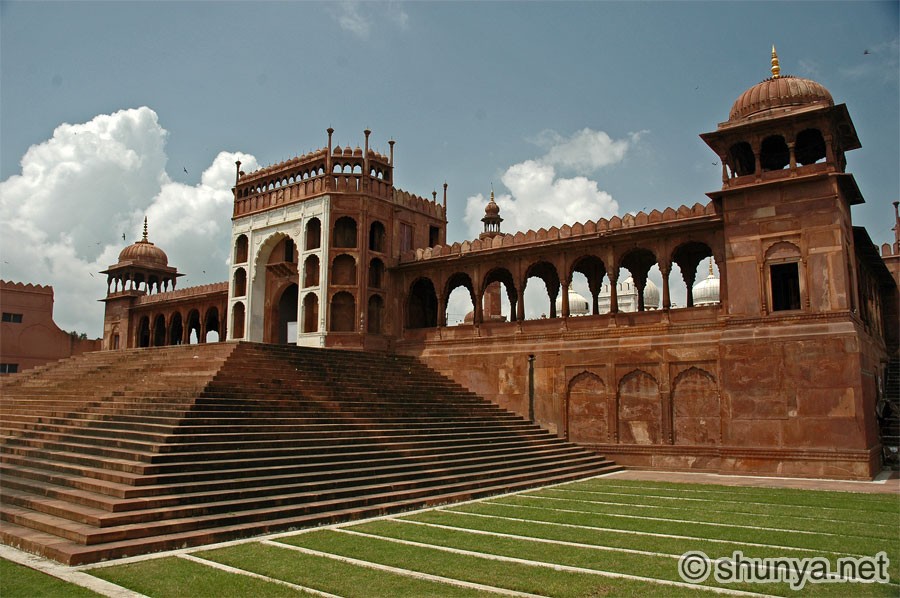 The other attractions are the Royal Baths or Hammams , Shah Burj a private area for Shah Jahan with marvelous architecture of floral patterns, multi colored stones and white marble.